A wireless fire alarm system is ideal in premises where people are in constant attendance, including shops, offices and hotels. They are also suited to buildings which might have operational issues where hard wiring in a system isn't always feasible e.g. property conversions, listed buildings or other period properties.
Wireless fire alarm system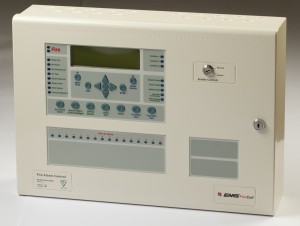 The EMS FireCell is a wireless analogue addressable fire alarm system. These fire alarm systems are known as wireless as the detectors communicate via radio signal. They operate by sounding an alarm when a fire breaks out. These systems can be used when a small basic fire alarm is needed e.g. in small premises; or in much larger premises where a larger system can scaled to the premises, using multiple control panels, which can support hundreds of devices. With this system you have adaptable fire alarm coverage.
The benefits of using an EMS FireCell wireless fire alarm system:
• Wireless fire alarm system – devices communicate using secure, dual frequency signalling
• Fully networked – with up to 8 control panels, providing coverage whatever your business size
• Minimal business disruption and damage to décor – as the system isn't hard wired in
• Third party certified – to EN54-25 standards
• 5 year warranty – giving you reassurance and peace of mind
Abbot Fire Group provide fire alarm testing, and on-going servicing agreements, leaving you safe in the knowledge that your wireless fire alarm system can be relied upon should a fire break out.
If you think your premises would benefit from a wireless fire alarm system as a new install, or to upgrade or replace an existing system please get in touch. Call 01280 824111 for further advice, we'd be happy to hear from you.
If you're interested in automatic door closures, we can help with these too; just give us a call for further details.