Whatever your fire extinguisher requirements, from supply to fire extinguisher maintenance and servicing, we can help. Abbot Fire Group only supply reputable and reliable extinguishers. Advising on the different types of extinguisher and their uses, Abbot Fire Group can recommend what is best suited for your business needs; whether it's water, CO2 (carbon dioxide), powder, or foam.
Types of fire extinguishers
You can see which fire extinguisher is suitable for what purpose at the bottom of this page.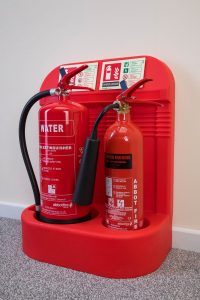 In order to comply with industry standard recommendations, and to ensure the extinguishers can be relied upon when required, fire extinguishers should be serviced annually. Abbot Fire Group provide on-going fire extinguisher servicing, undertaken by BAFE registered technicians. Maintenance agreements can be put in place and we'll even contact you when your fire extinguisher servicing is due, giving you one less thing to worry about.
Fire extinguishers should also have a visual inspection on a monthly basis by your designated competent person, usually your fire warden. Advice, guidance, and training can be provided on what they should be looking for when conducting these monthly inspections.
Packaged solution
Extinguisher service packages are subject to an annual fee of just £25.00, with a differing price per fire extinguisher depending upon your preferred service option. All extinguisher servicing is undertaken annually by an experienced and qualified BAFE registered technician. The servicing packages cover the different fire extinguisher types: water, foam, powder and Co2 (carbon dioxide), so whatever combination you have, you're covered.
Gold
This premium service provides a fixed price per fire extinguisher which includes replacing any unserviceable extinguishers. This package is subject to an initial survey and excludes fire extinguishers that are lost, stolen or damaged.
Silver
This price per extinguisher includes fire extinguisher servicing to the prevailing British Standard and / or manufacturer's instructions. Any fire extinguishers that need replacing will be charged additionally.
Bronze
This basic package provides a servicing cost per fire extinguisher with any replacement parts or new extinguishers charged additionally.
Five year guarantee
Abbot Fire Group, as an independent award winning business, provides quality fire extinguishers throughout the UK. Choosing premium extinguishers from highly reputable manufacturers provides you with a range of products known for their longevity and optimum performance. All new extinguishers are guaranteed for a minimum of 5 years against manufacturing defects, providing they are serviced regularly by BAFE registered technicians. In addition all extinguishers are kitemarked to British Standards EN3 (BSEN3), comply with the pressure equipment directive, and are CE marked.
One call
You may already have fire extinguishers in place, and are looking for maintenance and servicing for your different types of fire extinguisher. Alternatively you may need replacement extinguishers; whatever your fire extinguisher needs, just give us a call on 01280 824111 and we'll be happy to provide a quote.
Download the Abbot Fire Group fire extinguishers leaflet.
Fire extinguisher training
As you would expect, Abbot Fire Group also undertake fire extinguisher training. From basic fire safety training and fire extinguisher familiarisation, to hands-on fire extinguisher use in controlled conditions. We also provide specialist training for fire safety wardens. Read further details on fire safety training.
Extinguisher Types
There are different types of fire extinguishers for different classifications of fire; the table below shows the classes of fire and suitable extinguishers.
| | | |
| --- | --- | --- |
| | | Fires involving solid materials, usually of an organic nature, in which combustion normally takes place with the formation of glowing embers. |
| | |  For fires involving liquids or liquifiable solids |
| | |  Fires involving gasses |
| | |  Fires involving metals such as magnesium, aluminium and lithium |
| | |  Fires involving cooking fires and fats |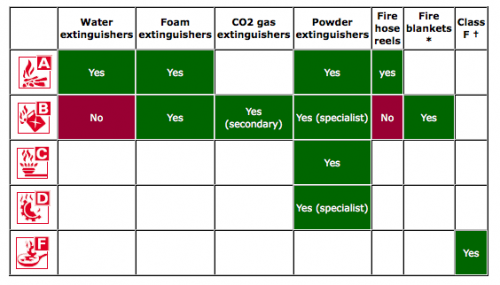 *Fire blankets are for Class B fires such as small chips pans, and
can also be used for wrapping people whose clothes have caught fire
†Class F extinguishers are specific to cooking oil and fat fires involving
very high temperatures. These are required in catering kitchens, restaurants and takeaway outlets where deep fat frying facilities exist. Additional extinguishers are also required to ensure that in the event of a fire and the usage of an extinguisher, a replacement is immediately available. There is a maximum area covered by Class F extinguishers as specified by British Standard 5306-8:2002 (page 9, table 2); 0.11m² for one extinguisher, and 0.40m² for two (this is for a 75F rated Class F extinguisher). For areas larger than this, a kitchen suppression system is required.