All business premises, regardless of their size, require a fire risk assessment. These are sometimes referred to as a fire safety risk assessment, or risk assessment for fire. This is an important legal obligation, which is required as part of fire safety legislation under the Regulatory Reform (Fire Safety) Order (RRO). Your assessment identifies if current fire precautions are adequate, and highlights any areas which may be missing or currently not covered by suitable fire precautions.
Fire risk assessment - what's included?
The assessment covers a number of areas within your premises. You will receive a written report that identifies any problems or issues. This will specifically include details of any areas which are not covered by suitable fire precautions. Additionally we will provide guidance on how to rectify problem areas, and continue to provide support once the assessment has been undertaken.
The report will also contain suitable suggestions for implementation to help reduce the fire risk and improve fire safety in the workplace.
Compartmentation survey
Your building is divided into compartments each designed to control or slow the spread of a fire. A fire compartmentation survey looks in greater depth at your fire stopping materials that make up each compartmentation. From checking fire doors, to identifying any penetrations that may have compromised the integrity of the walls. Any voids above false ceilings will be checked, in addition to ensuring the correct intumescent materials have been used throughout the building.  A fire compartmentation survey is a very specific and in depth analysis of your premises. Any compromises can be addressed by passive fire protection.
Choosing a fire risk assessor: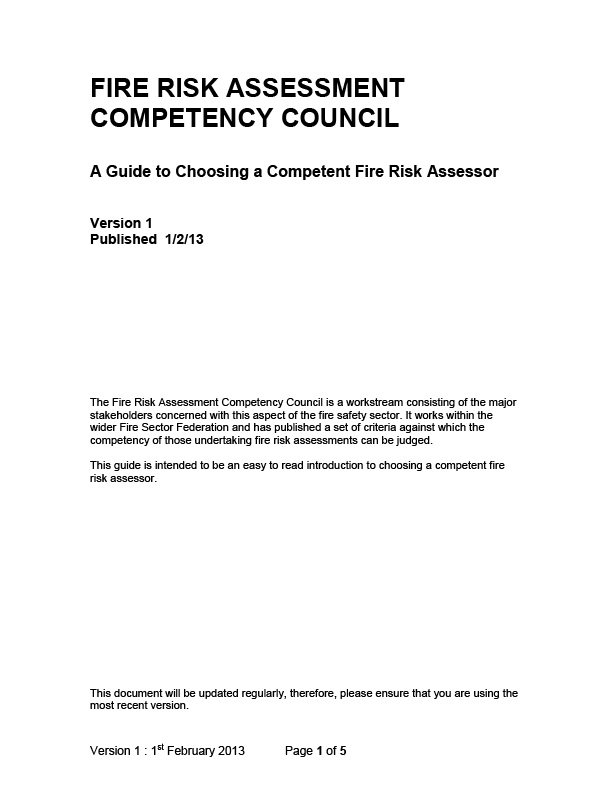 The Fire Risk Assessment Competency Council produce this handy guide to help you choose a competent fire risk assessor.
Minimal business interruption
A fire risk assessment can be undertaken during normal working hours. The experienced and knowledgeable competent assessor from Abbot Fire Group will undertake the fire safety risk assessment with minimal interruption to your business. Your business can carry on with its day to day work whilst the assessment is taking place.
Due to the nature of a fire compartmentation survey, this survey is more involved and can have an impact on your business operation; fire doors are removed and checked, roof tiles are lifted, the ventilation system is checked. We can work with you to provide a fire compartmentation survey around your business, and to avoid your busiest periods.
Reporting back
The comprehensive assessment report will usually be delivered 2-3 days after the assessment has been undertaken. It will also include digital photographs to avoid any confusion and doubt. Obviously, if there are any clear and immediate fire risk dangers, then the assessor will highlight these during the visit. This enables immediate action to be taken to remedy the situation.
We can provide solutions to most areas that may currently be lacking in order to meet current fire safety legislation.
We will discuss the timescales of your fire compartmentation survey report, based upon the size of your business, and the number of premises checked.
Abbot Fire Group provides fire risk assessment and fire compartmentation surveys across the UK, call 01280 824111 for further information, or get in touch.