Internal Sales Executive - Kitchen Fire Suppression
An opportunity has arisen for an Internal Sales Executive within a growing and busy department at Abbot Fire Group.
The Internal Sales Executive is offered as a permanent role with great prospects and is seen as an opportunity for an existing Executive looking to progress in an exciting industry and business.
The role
To develop and manage own revenue stream (Ansul kitchen fire suppression) by developing new business with existing and new customers.
Develop and maintain strong customer links to maximise growth and long term revenue.
Ensure all customers have an SLA contract, agreed rates and service KPIs.
Ensure sales won are processed internally to relevant departments.
Properly use the company's operational systems to maintain full, accurate and timely records.
Liaise and support members of the wider sales and management team; promptly deal with any telephone, written, email or face to face queries.
General skills / attributes
Discreet, with the awareness to maintain the confidentiality of our often-sensitive work.
Willing, capable and comfortable working in a multi-skilled, sales process.
Full UK driving licence.
Strong organisational and multi-tasking skills.
Good written skills – English: spelling, grammar and vocabulary appropriate for business use.
Effective communication both telephone and written.
Practically minded – able to grasp how and what.
Flexible approach to fast paced enquiries. A 'can do' personality.
Proven IT Skills: Microsoft desk top and email applications. Customer service/CRM systems.
An understanding of how the product is delivered is important.
Experience
Sales and looking for a rewarding career.
Determination and resolve to succeed.
Demonstrable record of customer interaction via telephone and email interaction with customers.
Experience of working under pressure in a busy office environment is essential. This particular part of the industry is now growing at a fast pace.
A calm, measured and thorough approach to providing new and enhanced solutions to customers.
Track record of using IT as an integral part of a job.
A consultative approach.
Key performance indicators
Sales pipeline management, sales wins and forecast against budget.
In return
£22,000 - £24,000 per annum depending upon experience, commission scheme.
25 days holiday
Pension scheme
To apply
If you're interested, please send your CV and a covering letter, to: recruitment@abbotfiregroup.co.uk.
No agencies please, we'd rather hear direct from the candidates themselves.
Fire technician vacancies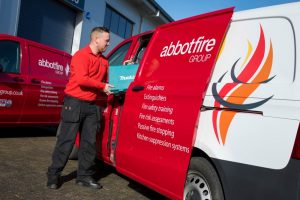 Due to continued business growth, Abbot Fire Group has vacancies for fire safety technicians. The successful technicians will be trained in multiple disciplines which include the installation and servicing of fire extinguishers, installation and servicing of fire alarms, and the application of passive fire protection.
Previous experience is useful, but not essential, as full training will be provided. However the right attitude to working hard and providing a quality service in this customer facing role is crucial.
Based in Buckingham, the majority of Abbot Fire Group's clients are located between London and Birmingham, with a concentration around Banbury, Buckingham, Oxford, Milton Keynes and Northampton regions. Abbot Fire Group do provide a nationwide service, so some additional travel will be required.
This is a demanding role, requiring enthusiasm and a strong commitment to delivering quality work. You will need to communicate effectively as part of a team, and with customers.
To apply
If you're interested, please send your CV, to: recruitment@abbotfiregroup.co.uk.
Abbot Fire Group is a multi award winning fire protection company based in Buckingham.
No agencies please, we'd rather hear direct from the candidates themselves.