Fire technician vacancies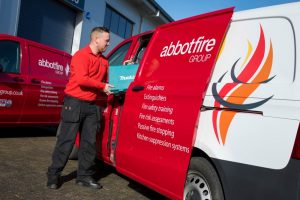 Due to continued business growth, Abbot Fire Group has vacancies for fire safety technicians. The successful technicians will be trained in multiple disciplines which include the installation and servicing of fire extinguishers, installation and servicing of fire alarms, and the application of passive fire protection.
Previous experience is useful, but not essential, as full training will be provided. However the right attitude to working hard and providing a quality service in this customer facing role is crucial.
Based in Buckingham, the majority of Abbot Fire Group's clients are located between London and Birmingham, with a concentration around Banbury, Buckingham, Oxford, Milton Keynes and Northampton regions. Abbot Fire Group do provide a nationwide service, so some additional travel will be required.
This is a demanding role, requiring enthusiasm and a strong commitment to delivering quality work. You will need to communicate effectively as part of a team, and with customers.
To apply
If you're interested, please send your CV, to: admin@abbotfiregroup.co.uk.
Abbot Fire Group is a multi award winning fire protection company based in Buckingham.
No agencies please, we'd rather hear direct from the candidates themselves.