Business Development Manager - Passive Fire Protection
An opportunity has arisen for a Business Development Manager to provide support to a growing and busy department at Abbot Fire Group. The Business Development Manager is a permanent role, and is based in Buckingham.
The role
To develop and manage the passive fire protection (fire stopping) revenue. By developing new business with both our existing customer base and new customers.
Develop and maintain strong customer links to maximise customers potential and deliver quality and value through working with our team.
Maintain strong links to other sales team members to support a cross selling environment.
Obtain and develop the company's passive fire protection business stream.
Properly use the company's operational systems to maintain full, accurate and timely records.
Liaise and support members of the wider administration and management team; Promptly deal with any telephone, written, email or face to face queries.
General skills / attributes
Discreet, with the awareness to maintain the confidentiality of our often-sensitive work.
Willing, capable and comfortable working in a multi-skilled, experienced and close-knit team.
Full UK driving licence for all applicable classes.
Strong, proven organisational, multi-tasking skills.
Good written skills – English: spelling, grammar and vocabulary appropriate for business use.
Effective verbal communication both telephone and face to face.
Practically minded – able to grasp how and what.
Flexibility: Approach to and types of work. A 'can do' personality.
IT Skills: Microsoft desk top and email applications. Customer service/CRM systems.
Experience
Construction Sales / Facilities Sales.
Working in an open plan office environment and out on the road.
Demonstrable record of face to face, telephone and email interaction with customers, colleagues, managers and suppliers at all levels across all functional areas.
Experience of working under pressure in a busy office environment is essential.
A calm, measured and thorough approach to problem solving.
Track record of using IT as an integral part of a job.
Demonstration of developing IT skills – "new to you" systems and improving expertise with existing applications.
Key performance indicators
Sales pipeline management, sales wins and forecast adherence to achieve set out budget.
In return
£27,000 - £30,000 per year, plus uncapped bonus scheme
25 days holiday
Pension scheme
Mobile phone, company car
To apply
If you're interested, please send your CV, to: admin@abbotfiregroup.co.uk.
No agencies please, we'd rather hear direct from the candidates themselves.
Fire technician vacancies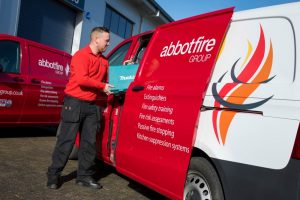 Due to continued business growth, Abbot Fire Group has vacancies for fire safety technicians. The successful technicians will be trained in multiple disciplines which include the installation and servicing of fire extinguishers, installation and servicing of fire alarms, and the application of passive fire protection.
Previous experience is useful, but not essential, as full training will be provided. However the right attitude to working hard and providing a quality service in this customer facing role is crucial.
Based in Buckingham, the majority of Abbot Fire Group's clients are located between London and Birmingham, with a concentration around Banbury, Buckingham, Oxford, Milton Keynes and Northampton regions. Abbot Fire Group do provide a nationwide service, so some additional travel will be required.
This is a demanding role, requiring enthusiasm and a strong commitment to delivering quality work. You will need to communicate effectively as part of a team, and with customers.
To apply
If you're interested, please send your CV, to: admin@abbotfiregroup.co.uk.
Abbot Fire Group is a multi award winning fire protection company based in Buckingham.
No agencies please, we'd rather hear direct from the candidates themselves.