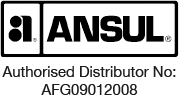 Abbot Fire Group are authorised Ansul distributors. We have been designing, supplying, installing and servicing Ansul kitchen fire suppression systems for 10 years.

We are delighted to be the first company in the UK to achieve BAFE SP206 third party accreditation for Kitchen Fire Protection System Provider.
A kitchen fire suppression system is a crucial piece of equipment for any commercial kitchen. It can respond within seconds should a fire break out. Kitchen fire suppression systems are ideal for hotel kitchens, restaurants and fast food outlets. In addition, they can often be an insurance company requirement.
The Ansul R-102 kitchen fire suppression system is designed to suit your specific range of kitchen appliances, whatever your kitchen size and layout. Additionally, the Ansul system can also be operated manually by pulling the manual pull station. This can alert the rest of the building, via the fire alarm, to start evacuation.
This tailor-made system can provide overlapping protection, or be appliance specific. The kitchen fire suppression system protects a range of appliances too, such as deep fat fryers, brat pans and grills. Henny Penny mono rail and dual lid-lift system pressure fryers often require very specialised installation. These systems require the nozzles to be plumbed directly into the appliance, such as the Henny Penny 582. Whatever appliances you're using, we have the experience and expertise to ensure you have the protection you need.
Maintaining and servicing your Ansul system
The video demonstrates the regular cleaning that is required for your Ansul fire suppression system. Equally important are the monthly checks that ensure the system can be relied upon to operate correctly in the event of a fire.
Abbot Fire Group's qualified and experienced trained technicians will carry out the required six monthly servicing of your kitchen fire suppression system.
24 hour protection
The Ansul system provides protection 24 hours a day, 7 days a week, and protects your premises even when they aren't manned. This type of protection can often be an insurance company requirement. In addition, the Ansul system is approved to Loss Prevention Standard 1223 (LPS 1223) and UL300.
Simple clean up
In the event of a fire, the kitchen fire suppression system will discharge automatically, and the clean-up from this is effortless. The Ansulex suppressant agent in the Ansul system is equipment friendly and this can help you to start operating again quickly. Therefore this can help avoid prolonged periods of closure following a fire.
For kitchen fire suppression system design, installation, servicing and maintenance across the UK, just call 01280 824111.