There are a choice of fire alarm systems available to you, depending upon your premises, type of business, and fire risk. Whether the system is hard wired into the building, or a wireless system; Abbot Fire Group only provide fire alarm systems with a proven track record. If you're looking to upgrade or replace an existing system, we can do this too.
Abbot Fire Group have BAFE accreditation for SP203 modular scheme for fire alarm maintenance, giving you peace of mind, and a competent company.
Selecting your system
Your fire risk assessment may have highlighted a need for a particular system; or a certain design and layout may be a requirement as stipulated by your insurance company.
Fire alarms are identified by two categories: P and L, with P being those specifically designed to protect property; and L being those designed for the protection of life. Those with L designation are designed to provide an early warning system, giving people time to evacuate a building in the event of a fire.
We also have added benefits such as full online asset and document management.
Wireless systems
Wireless fire alarm systems are a natural choice for many as minimal disruption is required to install them. Ideal in premises where people are in constant attendance; in property conversions, and listed buildings. Read more about wireless systems.
Ongoing servicing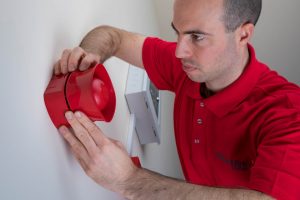 As you would expect Abbot Fire Group also provide on-going servicing and maintenance agreements, giving you peace of mind.
In order to meet current fire safety legislation, fire alarms are required to have a weekly test and the results from this test recorded in your fire safety log book. If you experience any issues, or error messages with your weekly test, then you must call your servicing company immediately to address these issues.
Abbot Fire Group supply, install and service systems across the UK, simply call 01280 824111 for further details, or download the Abbot Fire Group fire alarms leaflet.