The Electricity at Work Regulations stipulate that all fixed electrical items within a commercial building are required to be tested and inspected every 5 years. These tests are often referred to as Periodic electrical inspections, or Fixed electrical testing.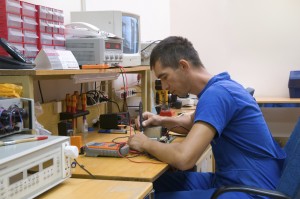 As the name suggests, this type of testing refers to electrical items that are fixed and permanent within your business premises. This includes plug sockets, lights, extractor fans etc. The process for testing involves a visual inspection, followed by specialist electrical testing procedures.
Annual periodic electrical inspections
It it good practice to ensure all electrical circuits are tested annually within the building.This can highlight any potential hazards, which can then be rectified, helping to avoid any potential dangers.
Qualified electrician
Abbot Fire Group's specialist qualified technician can undertake your periodic electrical inspections when required. You'll have peace of mind that your fixed electrical items have been checked and tested.
Get in touch today; we'll be pleased to hear from you.