Active and Passive Fire Protection – what's the difference?
We often get asked: What's the difference between active and passive fire protection? Here's some information to help.
Active fire protection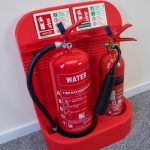 Active fire protection is about detecting fire, halting or stopping a fire; and importantly giving you time to get away from a fire to a place of safety. Your fire alarm, fire extinguishers and emergency lighting are classed as active fire protection.
Examples of Active fire protection:
Fire alarms
Emergency lighting
Fire extinguishers
Sprinklers
Smoke vents
Fire hydrants
Tannoy / Voice alarm systems
Fire hose reel
Fire blankets
Dry risers
Passive fire protection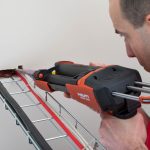 Passive fire protection is the process of protecting your business from the risk and spread of fire. This is achieved by ensuring your premises compartmentation is fully fireproof using intumescent fire stopping materials.
Examples of Passive fire protection:
Fire doors
Compartmentation
Fire curtains
Fire and smoker dampers
Fire stopping
Intumescent materials including smoke strips, putties, paints, foam
More about Passive Fire Protection
Do you need both?
The simple answer to this question is yes. Active and passive fire protection are designed to work together. One isn't better than the other, they work in tandem to limit the damage a fire can cause, whilst also ensuring there are safe escape routes for people to exit a building.
How do you know what you need?
A Fire risk assessment will identify what you need to protect your site. A qualified fire risk assessor will survey your site to identify any fire risks and hazards. They will take into account your type of business, stock, machinery or furniture on site, number of staff, and visitors to your premises. You will be given a detailed evaluation of what passive and active fire protection measures you may need to implement to ensure your site is safe and complies with current fire safety legislation.
Further details on Fire risk assessment
Still have questions? Just get in touch.