Introducing the new fleet
Abbot Fire Group has expanded its vehicle fleet with the acquisition of four new Mercedes Benz vito vans. The new fleet comprises vehicles for the fire alarms, fire extinguishers, nurse call systems and dry riser side of the business; in addition to specially equipped vans for the Ansul kitchen suppression system work undertaken by Abbot Fire Group. The expanded fleet is a reflection of the growth in the Buckingham based business and its team.
Supporting local business
Nigel Walton, Managing Director at Abbot Fire Group said: "It's thrilling to see the new vans and issue them to Abbot Fire Group's technicians. The vans reflect the quality and high level of service that our customers have come to expect from us."
Justin Boon, Retail Sales Manager at Mercedes-Benz Intercounty Truck & Vans in Milton Keynes commented: "It was a pleasure to hand over four new Mercedes Benz vito vans. They looked stunning all lined up, and we are proud to be the supplier to Abbot Fire Group, forging a strong business relationship between two local companies."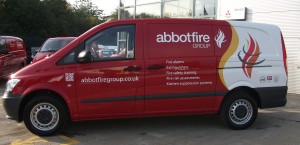 Abbot Fire Group can be contacted on 01280 824111, further details on the products and services offered by Abbot Fire Group can be found at www.abbotfiregroup.co.uk.