Buckingham based Abbot Fire Group are delighted to have provided 3rd Buckingham Scout Group with a fire alarm system, fire extinguishers and ID signs free of charge after the Scouts transformed a disused building in Embleton Way, Buckingham, into a new centre for the local group. The 3rd Buckingham Scouts group had been looking for support and investment from local businesses, and Abbot Fire Group were happy to step in and help. The team from Abbot Fire worked with the Scout leaders and their contractors to undertake a fire risk assessment, and plan, provide, and install a fire alarm system, and fire extinguishers to ensure the centre is fully fitted to meet fire safety regulations.
Graham Ellis, 3r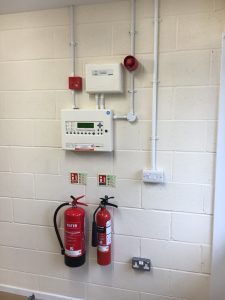 d Buckingham Scout Group Chairman, said: "My colleagues and I really appreciate the time, effort and generous contribution that Abbot Fire Group have made to get the new Scouts centre fire protection ready."
Nigel Walton, Director at Abbot Fire Group commented: "We were delighted to be able to support a local project, and help with the transformation of a disused building into a space which will benefit the Scouts and the local community. Abbot Fire Group's strapline of Assess, prevent, protect complements the Scouts motto of being prepared, which is what fire protection systems are all about."
For further details on the services and products provided by Abbot Fire Group visit www.abbotfiregroup.co.uk.